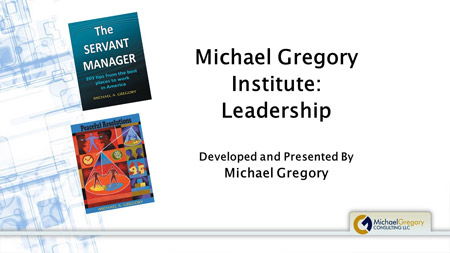 New Leadership Series Available!
This new online video series offers meaningful leadership training for you and your firm.
Developing leaders involves workshops and breakout groups to enhance managers skills to dramatically increase productivity and profitability by having managers reach their true potential when implementing best practices.
National Speaker Association member providing top quality service by helping clients identify, address and resolve issues
Michael Gregory Consulting, LLC was founded by Michael Gregory in 2011. Mike has a passion to learn and to share what he has learned to help others.  To assist you he has written 10 books and he provides 14 videos  on leadership and tax topics to give you what you need for success.  Mike has given over 160 presenations internationally to frims, BAR associations, CPA societies, appraisal organizations and others.   He would be happy to make a presentaion to your organization.   Besides presentations he satisfies clients by developing leaders and helping clients to properly identify, address and resolve issues in a wide variety of venues.   These are client to business, client to government and within organizations.
Two New Books Available!
How the IRS Determines Reasonable Compensation with Job Aid Commentary by the Original IRS Champion
---
How the IRS Values Non-Controlling Interests in S Corps with Job Aid Commentary by the Original IRS Champion
Check out his blog at ManagingResolutions.org for daily updates or to receive a monthly newsletter on the areas of interest to you.